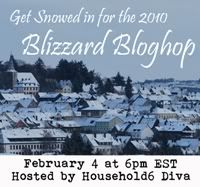 but I can still network! The wonderful
Household Diva
has set up a Blizzard Bloghop for those of us who are at home for whatever reason! I'm psyched, cause I was feeling pretty lonely thinking about NOT getting to see all the great ladies I met last year at Blissdom! But since we're expecting a baby in April, I knew that I didn't need to spend the money to go this year....and since I have a cold, that probably worked out for the best! I would have hated being miserable in Nashville!
So how about an introduction!
I'm the almost 37 (birthday is Sunday!) year old wife to Chris and mama to Isaac (8.5) and Adam (6), and soon to be mama to Robbie! I am a teacher by profession, and am over half-way through my first year as a Reading Specialist at two schools in our rural county. I'm finishing up my Master's degree in Reading...almost done....one class this semester and two over the summer! I am a proud Christian, and we are very active in our local church. I am also active in the online ministry
Worldprayr,
and actually have a devotion up over there today! I'd love to have you read it!
Hmm...what else?? Right now my favorite hobby is sleeping, and my least favorite is going to the bathroom constantly, it seems! LOL I am blessed to have my family and my husband's family (most of 'em) living close by, so we spend quite a bit of time with them as well. I love to read, and all my boys (including hubby) are taking Tae Kwon Do, so I spend some time carting kids back and forth from that, too. I sing in our church choir and love to dance, though I rarely get the chance anymore.
So there is a basic introduction! Browse around here, comment, and I'll be sure to visit you back! I'll admit I've been a blogging slacker since finding out we were expecting, but really WANT to do better! Thanks for stopping by, and may God bless you richly!