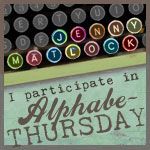 Today's is a no-brainer! Pics of my favorite baby boy-child! :) He's growing so quickly! He's got a little cold/ear infection right now, so I was trying to rock him to sleep. Part of me was hoping that I could get a little nap in as well, but I stopped myself and remembered that it wouldn't be much longer that he would tolerate me rocking him, and that I need to cherish every second!
Here he is in 'baby jail', as his Daddy calls it! He's in the hallway between the living room and the kitchen, and we're in the kitchen. He loves to pull himself up on the baby gate and then sit back down, over and over! He's doing really well at pulling up, is a crawling champ, and likes to walk holding fingers, too!
Here he is in his precious little Smokey outfit! Hey, we raise 'em up right here in Tennesseee country (even though we actually live across the border in Virginia!)
This was taken at Dollywood back in the fall...I know I'm a little biased, but don't I have three handsome sons??
And last, I know I've shared this picture before but I LOVE this shot of him! So angelic he is here...til he wakes up!
I'm very blessed at the opportunity that God has given me to parent all three of my sons, but I feel especially blessed to be mommy to Robbie, since he was our surprise baby!
Have a GREAT Thursday!