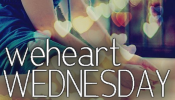 I found a new meme this morning and since I'm home today with Robbie (ear infection again...this is number 6 or 7 I think?? Appointment with the ENT in 2 weeks!) I thought I'd try it out!
Welcome to the 15th edition of We ♥ Wednesday: The meme celebrating pictures of the things you love, each week! There is one, and only one, rule: you must get your images from weheartit.com! That's the whole point and inspiration behind this meme! Join in, fall in love, and link up your post!
This pic reminds me of a dog we had when I was little. It was actually my foster brother's dog, but when he moved out the dog stayed. His name was Tiny. We called him a cat trapped in a dog's body cause he was so prissy! But he was a definite member of the family. He went on camping trips with us, and when we went out in the boat to fish, we would often have a bucket of live crickets with which to catch fish. If you've never seen a cricket bucket, here is a pic:
It is made with that hole in the top cause crickets can't jump straight up! Anyway, Tiny would knock over the bucket in the boat so he could chase the crickets!
He was a loyal member of our family for about ten years, and was an endless source of affection and pleasure!