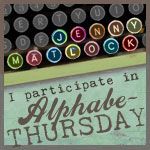 alligators....
or is that a crocodile?! I'm not too good at telling the difference!
I also think of Christmas when I think of green. Here's a cool vintage card I found online...
I love this button...
This little froggy says it well, as I'm in the midst of the first week back to school!
I'll end with this avatar, cause it SO describes me! Have a fabulous rainbow Thursday, ya'll!