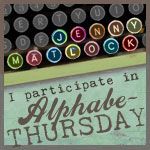 The middle school I attended and made many life-long friends...also the arch-rival of the school where my boys will attend!
The high school I attended for two years, before we consolidated with another small school...
And my beloved college where I've graduated not once...but twice...15 years apart!
My sorority.....
The high school where my nieces and nephews attend, where my sons will attend....
but my favorite shade of blue is
any shade my three sons wear!
I'm a bit melancholy this week, so I'm reminiscing with my blue post! Ya'll come back now, you hear?!