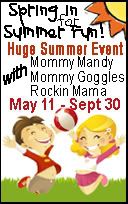 What do you think? I'm gonna jump in for sure! Mommy Mandy, Mommy Goggles, and Rockin' Mama are throwing a part all summer long, and YOU can be a part, too!
If you're visiting from the party, let me tell you a little bit about me. I am mommy to two wonderful sons, Isaac (8) and Adam (5). I am wife to Chris, who is a special education teacher and assistant principal. I am a teacher, currently of first graders, but soon to be a Reading Specialist! I'm a student....I'm getting my Master's in Reading currently, which is a challenge while taking care of a family and working full time, but I can do it! I am a sister, friend, sister-in-law, daughter, daughter-in-law, aunt....I love my friends and family and am very loyal to them, possibly to a fault at times. And last but certainly not least, I am a Christian. I am a daughter of the King, and am passionate about sharing Him and His love with others.
Of course, this does not mean that I am perfect....far from it! I learn more about Him and how to walk with Him each day. I stumble. I fall. I act in ways that Jesus would not approve. But I ask for forgiveness and try my best to learn from my mistakes and move on. I enjoy Bible studies and have made friends online with whom I try to be an example of Christianity. I help moderate at My Parent Connection, and would love to see any bloggers there as well!
I love to read, and am not able to devote as much time to pleasure reading right now as I would like. I lead the children's sermons at our church at least twice monthly, lead a group of 3rd-5th grade students at church, and sing in our choir. I took dance classes for years and would love to get back to it!
My husband and sons have recently started Tae Kwon Do classes, and I'm also a baseball/soccer/basketball mom! We do try not to have the boys over scheduled, however, so that they do have some 'down time' to enjoy at home.
So....there I am in a nutshell. I'm hoping to make some new friends in bloggerland this summer, and hopefully YOU will be one of them! Please come and read up on our life again soon!