THEY WON!! THEY WON!!

Our local high school team, that is.....and I am SOOOOO excited and proud of the way that our boys played today. They went out there and gave it their all! I'm especially proud, of course, of my nephews....but I taught quite a few of the boys on the team in my first years at SES. I am so proud of them! The opposing team attempted to start fights and just generally play dirty, but our boys didn't stoop to their level!

SO! Next Saturday we will meet a team at UVA-Wise on artificial turf....which should be interesting. My brother in law said that he was taking my nephew the kicker up there tomorrow to practice. The team will go up at least once this week, I'm sure. I am so stinkin' proud of them!

And as I type this, our girls volleyball team is playing in the state final game in Richmond at Virginia Commonwealth University. I taught several of those girls, teach the brother of one, and led some in our church youth group--and the coach is a good friend and fellow church member as well. I can't wait to hear if they won!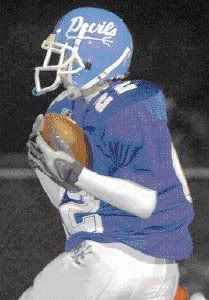 That's one of my boys!