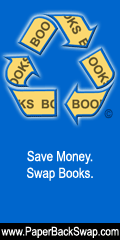 I don't get to read as much as I'd like, but I still read at least a novel or two a month. I LOVE PaperBackSwap! Here's how it works: you make a list of books that you would be willing to part with. If people want your books, PBS contacts you. You get a credit for each book that you mail to other members. You pay Media Mail rate postage, which isn't very much--I think $3 something is the most I've had to pay, and that was a larger hardback book.
Then when you find something you want, you can use those credits to order books you'd like! You can also make a wish list, and PBS will contact you if that book comes into the system.
They even give you a few credits to start out! Isn't that cool?
If you so choose, you can also use me as your referral, and I get a credit for that. Not saying you have to do that, of course! ;) (But if you do, my username is ChristiS!)
Just click on the banner above to get started! Its a great way to get new books while not letting them pile up (as I am bad to do!)