Celebrate good times, c'mon!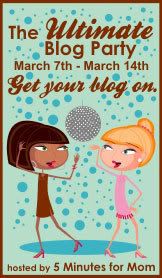 That is the song that my niece sang tonight in our school talent show, and since we're starting a blog party, isn't it appropriate?!
So a little bit about me and my blog!! I am Christi! I turned 35 last month and have been happily married to my best friend Chris for almost 10 years. He and I have two sons. Isaac will be seven next week and is in first grade. Adam is four and is preschool. We have a lot of fun hanging out, goofing off, and just enjoying being a family! Isaac has just started into more activities such as soccer, basketball, Cub Scouts, Royal Ambassadors, and just tonight was in the school talent show, so this is a big part of our lives now. In my spare time (HA!) I sing in our church choir and enjoy taking part in some online parenting communities. I also am *trying* to raise some extra money on the side with some home based businesses, and if you wanna hear about those, I'll gladly tell ya!
Let's see...what else......we are very involved in our church. We are blessed to attend church with my sisters and their families and my parents. That is good, because otherwise I wouldn't see my family much cause we are all so busy! I am proud to be a United Methodist, and even prouder to be a child of God. I am imperfect, am a sinner, and constantly fall short of His grace....but I keep trying! I also have a blog where I place my Bible studies and such, so check out my profile and visit me there as well!
Since this IS a party, how about an appetizer recipe?!
Here is an easy one. I am NOT a cook, so it has to be simple with me. You can't get much simpler than this!
Pepperoni Bites
pepperoni, as much as you want to fix
cream cheese
Cover 1/2 of each pepperoni slice with cream cheese. Fold the remaining half over the covered half.
And that is it! Told ya it was easy!!
A fun part of this blog party is the PRIZES! Some of my faves are:
1. 70 Chocolate offered by
The Chocolistas
2. 7 Bead Dangle Photo Tile Necklace offered by
Elemental Memories
3. 90 — Fused Glass Pendant shared by
Lucky Girl Trading Co.
If those are not available, I'd be thrilled with 16, 32, 38, 44, 52, 60, 62, or 64 or truly, ANY prize! This is an awesome, fun time and I'm itching to get started!
Well, I hope that you visit again after this week. God bless you, and thanks for stopping by!